COMPACTOR
Compactor Operator:  Randy Hardwick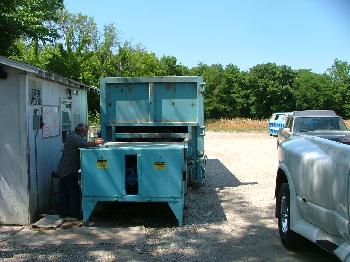 Phone: 913-757-2144
Hours:
Sunday          1 pm - 5 pm
Monday         1 pm - 5 pm
Tuesday         1 pm - 7 pm
Wednesday   1 pm - 5 pm
Thursday       Closed
Friday            Closed
Saturday        8 am - 12 noon and
                       1 pm - 5 pm
The La Cygne compactor is closed on these holidays: New Year's Day, Memorial Day, Independence Day, Labor Day, Columbus Day, Veteran's Day, Thanksgiving Day and the day after, Christmas Eve and Christmas Day.
The La Cygne compactor is located at the west edge of La Cygne on K-152 (next to the river bridge). The compactor is a service of Linn County and the operator is employed by the City of La Cygne.
In addition to ordinary household trash, the compactor has recycling bins for metal, cardboard, mixed plastics and paper. No paint, oil, tires, batteries, shingles, wood, siding, furniture, or other hazardous materials are allowed. For information concerning disposal of hazardous materials and large items please see below for the Linn County Landfill.
---
LINN COUNTY LANDFILL
Located at 4183 Vernon Road, Prescott, Kansas
913-471-4631
Website: www.linncountyks.com/departments/solid-waste
Household Hazardous Waste
The Household Hazardous Waste (HHW) facility is located at the Noxious Weed Building at 4067 Vernon Road. It is open Monday-Friday from 8:00 am to 4:00 pm and accepts construction and debris until 3:30 pm. Items that are accepted include:
Oil-Based Paint and Latex Paint
Household Cleaning Chemicals
Solvents
House and Garden Pesticides
Waste Oil
Batteries
Pricing: $10 minimum up to 800 pounds then goes to $25.00 per ton
The following items may be recycled:
Plastics – rinse milk and plastic pop bottles; remove top plastic ring
Cardboard
Waste Paper
Aluminum
Magazines
Newspaper – do not place in plastic bags or wrappings
Tin cans
Disposal Site Schedules
Site
Sun
Mon
Tues
Wed
Thurs
Fri
Sat
Linn Valley
Open to Members Only, 24 Hours per Day, 7 Days a Week
Blue Mound
Closed
1-6
Closed
1-6
Closed
1-6
10-6
Centerville
Closed
Closed
3-6
Closed
3-6
Closed
8-1
Mound City
Closed
Closed
7-12, 1-6
1-6
1-6
1-6
8-12, 1-6
Parker
Closed
Closed
1-7
Closed
1-7
Closed
9-3
Prescott
Closed
1-6
1-6
1-6
1-6
1-6
1-6
Prescott Transfer Station
Closed
8-4
8-4
8-4
8-4
8-4
9-12
Pleasanton
12:30-6
12:30-6
12:30-6
Closed
12:30-6
12:30-6
12:30-6
La Cygne
1-5
1-5
1-7
1-5
Closed
Closed
8-12, 1-5